Without You Here – by Nickford
Released by One Home Hit Studios, December 31st, 2015.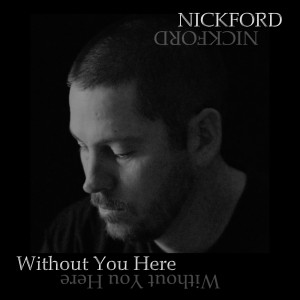 Hello everybody, my name is Nickolas Olsen (releasing my music under the name Nickford). I am proud and excited to finally share my first completely finished and recorded song! Check out my music video below. It took me about a year from concept to completion. I wrote and recorded the whole thing and all the parts myself (mostly), in my spare time at my home studio in Lodi, CA.
I had a lot of feedback and support from my family, helping me to decide on how certain parts sounded best and etc., so thank you to them all! It isn't perfect, but hopefully it sounds professional to all of you. This was recorded at my home, mostly using affordable, readily available music equipment and recording gear – and with no professional experience in recording, mixing or mastering!
I will be donating half of my earnings from the sales of this song to charity!
I wrote this song in honor of my brother, Jonathan Casedy (as well as some other people closely in mind). Johnny (as we called him) tragically lost his life in 2009. His presence is indescribably missed by his family and friends. I can't possibly imagine what it must be like for the young son he left behind. I've always wanted to be able to do something for children who go through something like that, especially those who don't even have other family to fall back on. One of my wife's best friends recently died in a tragic car accident in her hometown of Erie, Illinois. She left behind three young boys. Even for them, who fortunately have a strong family, I know it is difficult to handle not only emotionally, but financially as well. So I want to try to give something to this cause. I haven't chosen the particular charity yet, and i'm considering starting one up myself. I'm looking at something aimed at helping underage kids who's parent (or parents) have recently passed away. Your suggestions will be considered if anyone knows of something along these lines. I will post updates on this blog and Facebook to keep everyone informed.
Even if you don't like my song, it's only $0.99 – $1.29, and that's not much to most of us. A lot of us spend far more than that daily on coffee, junk food or even beer. Plus, technically you still get something while giving back to an often overlooked and needed cause. Now I know this is reaching, but i'm setting a goal of selling at least 20,000 copies! Ridiculous, I know! I figure what the heck, shoot for the moon! I'll need all the help I can get to reach this goal. So please, share, share, share! Feel free to use the share links at the top of this page. You can also leave reviews after purchase at the stores, apps or services listed below, or like on YouTube and Facebook.
You can purchase or access my song at all of the stores / apps / services listed below.
Spotify – search "Nickford Without You Here"
Amazon – Note: the song preview quality in Amazon is poor, however the download is the original high quality Mp3.
YouTube Music – search "Nickford Without You Here"
Rhapsody – click link or search "Nick Ford Without You Here" – they have the name wrong.
EMusic – click link or search "Nick Ford Without You Here" – they have the name wrong.
Deezer
iHeart Radio
and more!
The Back Story:
I have been in the learning phase of audio recording for quite a while – years really. I've been writing songs for a long time as well, but I struggle to finish them, especially the lyrics. Plus, it's hard to make music when you have a family to spend time with and a full time day job in roofing. I can't sacrifice more time with my family, so last year around August 1st, I quit my full time job to pursue my dream. I still do roofing to earn a living, but independently now. This freedom has allowed me more time and energy to stay motivated and inspired, in order to accomplish more with music.
My dad got me started on the guitar when I was about 12 or 13, teaching me dueling banjos on a twelve string acoustic! I'm no prodigy on the guitar, so fortunately he also got me interested in recording, early on in the digital age of home studios. It's really thanks to him that I got anywhere with music, so thank you dad! It was my late friend Jason Bell who got me interested in writing songs. He encouraged me to come up with my own songs, rather than being stuck on the same old Led Zeppelin / classic rock riffs I had been playing on guitar in the isolation of my bedroom, before I met him. We met in guitar class at Tokay High School, around 1996. He found and introduced me to Leslie Nicholson – "chick drummer," / awesome friend – whom I jammed with and attempted to write songs with for several years after that (we'll get some finished together now soon I hope).
More recently I discovered The Recording Revolution, and this guy Graham there who has been giving away tons of free, powerful tips and tricks on how to get better at home recording. I think I would have given up or went to audio school if I hadn't stumbled on his "Five Minutes to a Better Mix" series on YouTube – and it was a game changer. So thank you Graham, you have been invaluable to me. Graham has tons of free stuff, but his paid products are even better and much more in-depth. I suggest anyone seriously interested in learning about home recording start there (The Recording Revolution).
There are so many others that I could thank who are also sharing priceless information about audio recording and home studio topics online, but a couple of the others that stick out in my mind include:
Thank you to my wife Jessica for the help recording a large part of the video. Some parts were a challenge but it was still a fun process. Thanks to her and my kids, Andrew and Mecina, for putting up with the song on replay for the last half of the 2015 while I finished and mixed it. Thanks to my brother Cory who also helped with feedback and encouragement, and for one of the backing guitar riff ideas I recorded in the chorus. Also, thanks to anyone else who listened and gave feedback during the process, including my dad Jerry, mom Regina, sister Erin, Grandma Baker, and Cousin Troy Adam Baker. It was all extremely helpful. Oh, and you too Kevin Fink, for the tambourine inspiration!
Anyway, thank you everyone for taking the time to watch and listen, or to read my post here. I appreciate in advance all of the feedback you may share about my song and / or video. Please feel free to comment below, or you can check this out and comment on Facebook, Soundcloud or YouTube as well. Remember to please buy the song and share if you can!
Facebook link | YouTube link | Soundcloud link
Technical details:
For anyone interested, there is a screenshot of most of the plugins I used in Protools to mix this track. I used LandR online mastering for final mastering, and I feel like I got great results with them. I used Tunecore to distribute the song to iTunes and all of the other music services listed (plus more). I have to say, I had to do (and i'm still doing) a lot of follow up with them to make sure the song is properly labeled, and that the quality is up to par in the stores (mainly the proper name format / spelling, and the Amazon preview quality which is still not fixed). Thus the reason the song shows a release date of December 31st, 2015, yet you are all just seeing it now. Other than that it was a breeze using Tunecore. Last, I know it isn't perfect, and I hope I'll hear from many of you at the Waves Audiophiles and Recording Revolution communities. Your constructive criticism, feedback and questions are openly welcomed.
Enjoy!
Without You Here music video: